DON'T TRY TO RUIN THIS PAGE, I SEE YOU

This page is only for registered people only. If you edit the page without an account, you could break the policy law and get marked as a Killed Maninth clone.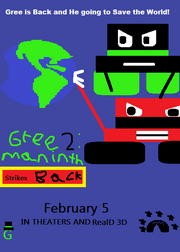 Gree 2: Maninth Strikes Back (also known as Gree 2) is an 2014 animated comedy-adventure film and the sequel to the 1987 film Gree. directed by Tom Baison, Produced by Gree Movies and distributed by Paramount Pictures (TriStar Pictures in first movie). It is followed by Gree 3: Revenge of the Golden Mask.
Plot
27 years later, Mr. Crawly is playing a video game called Big Baby's Big Adventure and Mrs. Crawly was going to museum. Maninth is still in Space.
More coming soon!
Cast
More cast coming soon!